SEO Scheduler Done For You SEO Service
You don't have time to do all of the SEO tasks. No worry, we'll take care of it for you.
With Prices This Low You're Out Of Excuses.
Start getting free traffic to your website from search engines today.
*Save 20% this week*… Now $223!
(Normally $279 / month)

How Our "Done For You" SEO Service Works:
You don't have to pay extra for any links.
You can login and view the status of the tasks at anytime.
We do all of the link building strategies for you.
We write your blog posts for you and send them to you. (Write your own blog posts if you want to)
We write the articles for you.
We do all of your SEO tasks.

We understand it's hard to find a good SEO company you can trust to do your SEO. That's why we give you the option to do your own seo and once you are comfortable with our system you can hand the reins over to us.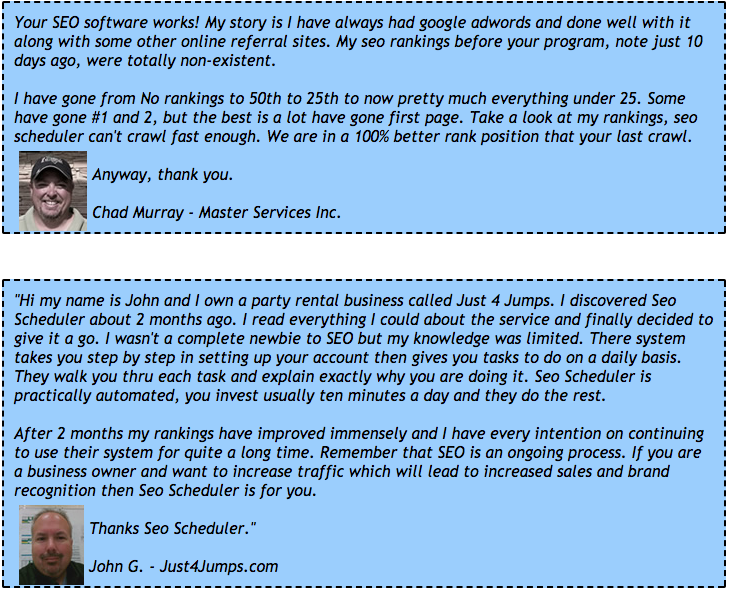 SEO Scheduler gives you top level SEO at an affordable price.
How do I cancel my account?
Not that you would ever want to, 🙂 but we have one click cancelling. Just login to your account, click on the edit account link and then click on the big orange unsubscribe button. It is really that easy.
Do I have to sign a long term contract?
No. Membership with SEO Scheduler is on a month to month basis. You can cancel at anytime.There are no long term contracts or committments.
How am I billed?
When you sign up you are set up to automatically be billed each month. There is nothing more you need to do on your part.
Are there other hidden costs apart from the monthly fee?
No. None.
How long will it take my site to get high rankings?
This is probably the most often asked question and the answer is, it depends. There are many factors that affect how long it will take your site to rise to the top of Google including, website age, link building profile, competition, and key phrases you are targeting. For some websites it can happen in 1-2 months. For others it can take 6+ months. What I can guarantee you is that if you follow the steps exactly as outlined with SEO Scheduler, you will give your website the best chance for success.
*Why are there no refunds of any kind on the Done For You, Unlimited, and Lifetime programs?
We are not able to provide refunds for the unlimited and lifetime programs be cause of the steep discounts. For for our Done For You programs we are not able to provide any refunds because of the high cost to run the programs properly for our customers. A Done For You style plan with another company would cost you more than we are offering here, partly because we have optimized the process and partly because we have a very low margin of profit. We hope you understand. Our cost is very high to perform the tasks properly and we perform work and spend money prior to, tasks being due and submitted. To service our Done For You customers properly, we are not able to offer a 30 day money back guarantee or refunds of any kind. You may still cancel at anytime just like any of our other services. Again, thank you for understanding. You can always try a lower do it your self plan to see what it is like before upgrading to a Done For You plan.