Just4Jumps.com
Just 4 Jumps is a party rental business.

"Hi my name is John and I own a party rental business called Just 4 Jumps. I discovered Seo Scheduler about 2 months ago. I read everything I could about the service and finally decided to give it a go. I wasn't a complete newbie to SEO but my knowledge was limited. There system takes you step by step in setting up your account then gives you tasks to do on a daily basis. They walk you thru each task and explain exactly why you are doing it. Seo Scheduler is practically automated, you invest usually ten minutes a day and they do the rest.
After 2 months my rankings have improved immensely and I have every intention on continuing to use their system for quite a long time. Remember that SEO is an ongoing process. If you are a business owner and want to increase traffic which will lead to increased sales and brand recognition then Seo Scheduler is for you.
Thanks Seo Scheduler."
John G. – Just4Jumps.com
---
MastersServices.com
Masters Services Inc is a service business offering wildlife removal and chimney sweeping among other services.

"Your SEO software works! My story is I have always had google adwords and done well with it along with some other online referral sites. My seo rankings before your program, note just 10 days ago, were totally non-existent.
I have gone from No rankings to 50th to 25th to now pretty much everything under 25. Some have gone #1 and 2, but the best is a lot have gone first page. Take a look at my rankings, seo scheduler can't crawl fast enough. We are in a 100% better rank position that your last crawl.
Anyway, thank you."
Chad Murray – Master Services Inc.
---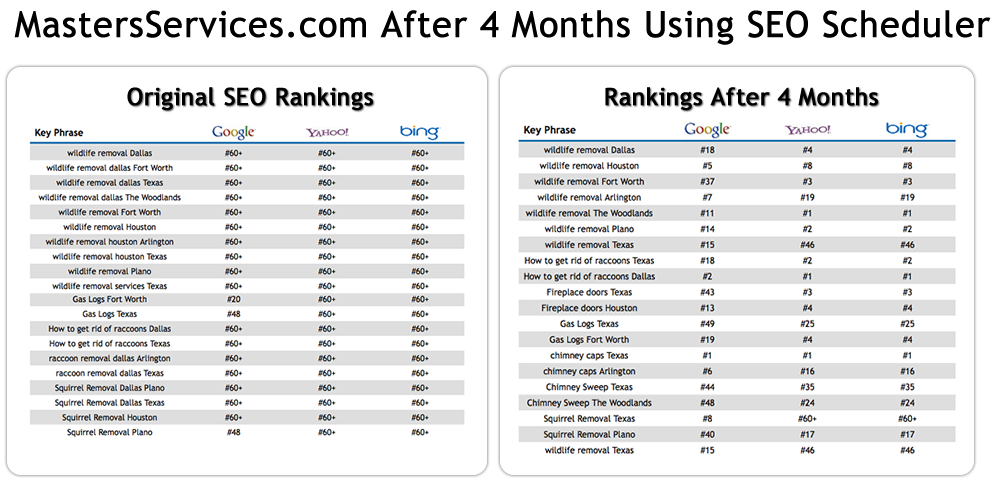 ---
QualityProGarage.com
Quality Pro Garage is a Utah based garage floor coatings and storage solutions company. After implementing the SEO techniques taught in SEO Scheduler their website quickly rose in the major search engines and have secured #1 positions for almost every single key phrase they target.
Take a look at the results of some of their top key phrases in the major search engines:

As you can see they have targeted their key phrases to the geographical region of Utah and currently dominate the local garage flooring industry there.
"It really is amazing how this site tells me exactly what to do and it all works. Our rankings are on the first page of Google for almost all of our keywords. And all this without any previous SEO experience. For the price, good luck finding something better."
~ Jake – QualityProGarage.com